About Acxiom
Acxiom is a marketing technology and services company. In today's digital world, brands must engage buyers and deliver great customer experiences in key markets. With access to two-thirds of the world's consumers, Acxiom has removed the complexities of acquiring and governing consumer data. They have been a leader in ethical data use and identity for more than 45 years, and help clients and partners create deeper customer connections.
Information Technology and Services
Website: https://www.acxiom.com
Headquarters: Little Rock, Arkansas
Specialties: Marketing technology, Marketing services, Direct Marketing Agency, Digital agency, and Information Technology.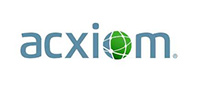 Why Destiny Corporation and Acxiom?
Acxiom's platform has the ability to append and cleanse client customer information by offering demographic data and creating models that enable organizations to reach more consumers with content that reflects their interests, preferences, and past purchases.
This information can then determine a person's probability to buy a product and when that might occur. Examples include the likelihood to donate to a Public Broadcasting Service (PBS) charity or buy a new vehicle after owning one for 4 years.
Destiny Corporation deploys Acxiom data and services at various client sites.