About Anaconda
Anaconda is a software development and consulting company that created Anaconda Python Distribution, a data science platform that enables data engineers, data scientists, and business analysts to analyze data in Hadoop and deliver predictive and machine learning solutions. It includes hundreds of data science packages as well as the conda package and virtual environment manager for Windows, Linux, and MacOS.
Their flagship product, Anaconda Enterprise, gives organizations the means to collaborate, govern, scale and secure Python and R in enterprise environments. Data scientists can securely collaborate on Notebooks and models with full enterprise directory-based access and version control.
Software
Website: https://www.anaconda.org
Headquarters: Austin, Texas
Specialties: Big Data Analytics, Python, SciPy, NumPy, Python Training, Python Consulting, Web-Based Python, Local Python Installs, Machine Learning, Data Science, High-Performance Analytics, Predictive Analytics, and Big Data Visualization.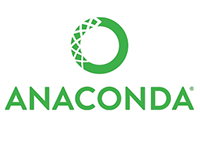 Why Destiny Corporation and Anaconda?
An increasing number of organizations are making use of Python and R, giving rise to the need for enterprise support, security, and best practices.
Anaconda is a Python and R distribution, providing everything needed (Python wise) for data science "out of the box".
Many Destiny Corporation clients are interested in this service and capability to complement their existing environments.