About Attivio
Attivio is the leading cognitive search and insight platform company. Their Fortune 500 clients rely on them to drive innovation, operational efficiencies, and improve business outcomes. Their solutions provide industry-leading natural language processing, machine learning, analytics, and knowledge graphing capabilities at scale.
They have a proud history of boosting productivity by expediting search and discovery, personalizing customer interactions by delivering highly contextualized information at point of need, and minimizing enterprise inefficiencies by dramatically accelerating business processes. Attivio provides immediate visibility to all the right information so organizations can boost their enterprise IQ, make better decisions company-wide, and seize every opportunity.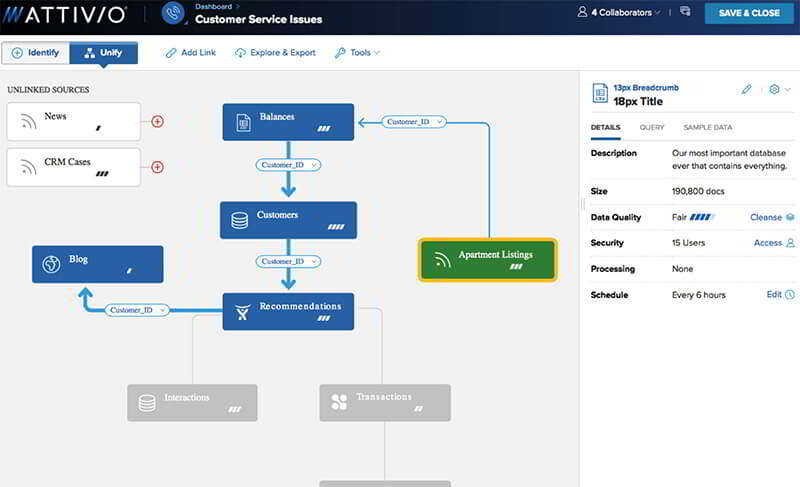 Attivio creates a visual model of data and data relationships.
Software
Website: https://www.attivio.com
Headquarters: Newton, Massachusetts
Specialties: Enterprise Search, Business Intelligence, Unstructured Content, Big Data Analytics, Structured Data, Machine Learning, Cognitive Search, Text Analytics, and Natural Language Processing.
Why Destiny Corporation and Attivio
Attivio's Semantic Data Catalog gives organizations the ability to find, correlate and model all of their structured, semi-structured and unstructured data and ensures the answers they need do not remain hidden in the dark data that typically includes up to 90 percent of enterprise information.
With Attivio, executives can avoid the cost of a bad decision based on incomplete information and act quickly on new opportunities. Data Scientists do not have to spend a disproportionate amount of time looking for the data they need, and queries can be initiated using plain language – eliminating reliance on IT.